Elena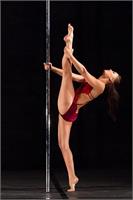 Elena started pole dancing in Russia and has become a competitive pole dancer and teacher for the past 6 years. She prefers spinning pole and tricks based on flexibility, with great attention to clean lines and choreography with a pole. She started dancing at the age of 10 with jazz, Russian folk dance, hip-hop and jazz-funk. She truly enjoys teaching, and loves seeing the progress of her students and feels proud watching them perform. Elena won 3rd place in the Pacific Pole Championship, professional division in 2014. In October 2013, she became an International Pole Dance judge by IPSF (International Pole Sport Federation in London). Other titles Elena won:
1st Place, Miss Pole Dance Siberia, artistic professional 2011 and 2012
3rd Place Russian National Championship - Miss & Mister Pole Dance Russia, artistic, St. Petersburg 2011
European Pole Dance Championship, Finalist, (6 place), artistic, Moscow 2011
Elena instructs the following:
This class is open to all students who have been to at lease 12 classes. A glamorous pole fitness and choreography class combined into one! You'll be able to tie together spins, tricks and floor work for a complete sexy workout. These full-length routines will have you practicing and perfecting your pole and dance skills!




In the class students will go through a 20-30 min warm up/stretch on the mats with some yoga poses to help open up the hips, warm up the shoulders and core.
Then we will do sets of strength training exercises on the pole to build muscle for climbs and inverts which will also tone the body quickly.
This class is for all levels and beginners will be given modified versions of the exercises where more advanced students will also be challenged.
The last 30 minutes will be a guided open pole/freedance. Students can practice what they are currently working on as the instructor will come around and assist you with your current needs.




Take your flexibility from basic warm up stretching to beginning contortion poses, all levels are welcome to train at your own pace. We will focus on safely exploring your limits through proper warm up and mat exercises to take home. Come increase your bendy power, learn to prevent injuries through safe stretching, breathe, and stretch in a supportive environment. This class Also teaches you how to balance on your hands. You will get upside down and practice the subtle adjustments needed to stay there.