Kelsea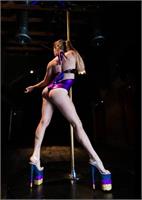 Kelsea grew up in Oregon, she has a background in ballet and theatre. She studied theatre at Portland state university and started pole dancing two and a half years ago in Portland, OR, and continued her training her in LA. She has taken an interest in silks and Lyra and love the aerial world. She has been dancing in strip clubs for two years, and currently work at Cheetahs. She is very excited to bring her lap dance background to Infit.
Kelsea instructs the following:



Kick up your cardio with this intense, fun and sexy workout in heels as we focus on walking and turning combos on and off the pole. Moving up and down the pole from the floor to the walls and creating fluid and sexy combos to use in the bedroom at home, or in a delicious combination with your pole moves! Develop your skills with hip movement, leg teases, body rolls, shoulder rolls, slides, sweeps, booty poppin', pole work, footwork and more! This class is designed for all skill levels. No pole dance required.
What to Wear: Students are required to have knee pads, leg warmers and stilettos for this class and encouraged to dress in something fun and flirty.