Amanda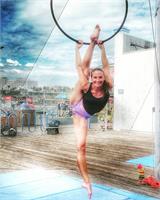 Amanda's lifelong dream of being a Cirque du Soleil came true in 2006 after a lifetime of preparation.
She has extensive training in pole, silks, cerceau, trapeze, harness, bungee, duo trapeze (base), spanish web, ballet, en pointe, jazz, commercial hip hop, tap, adage, lyrical and on top of all that, a personal training certification! Fresh out of Cirque and ready to move on to the next phase of her life, she moved to Los Angeles to pursue dreams in the entertainment business!
Amanda is currently not instructing any classes.