Amanda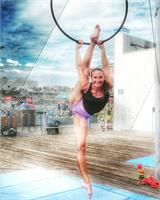 Amanda's lifelong dream of being a Cirque du Soleil came true in 2006 after a lifetime of preparation.
She has extensive training in pole, silks, cerceau, trapeze, harness, bungee, duo trapeze (base), spanish web, ballet, en pointe, jazz, commercial hip hop, tap, adage, lyrical and on top of all that, a personal training certification! Fresh out of Cirque and ready to move on to the next phase of her life, she moved to Los Angeles to pursue dreams in the entertainment business.!
Amanda instructs the following:
Take your flexibility from basic warm up stretching to beginning contortion poses, all levels are welcome to train at your own pace. We will focus on safely exploring your limits through proper warm up and mat exercises to take home. Come increase your bendy power, learn to prevent injuries through safe stretching, breathe, and stretch in a supportive environment. This class Also teaches you how to balance on your hands. You will get upside down and practice the subtle adjustments needed to stay there.




Aerial hoop, a.k.a. Lyra is a metal hoop suspended from the ceiling with rigging. Students will build upper body strength and flexibility while learning to create beautiful maneuvers in the air. Beginners will learn the basic of spinning on the hoop and the different ways to get into and out of the hoop. Intermediate students will learn to progress onto harder and more advanced maneuvers. Advanced students will learn to create their own choreography and learn to work with a partner Duo Hoop. All students will be taught the basic safety techniques, the proper way to exit the hoop, and the safest way to fall out of the hoop. All classes will be taught above thick safety mats and provide safety techniques and individual spotting.




Trick based pole class for intermediate/ advanced.




This class is for absolute beginners through intermediate students who need to learn & work on basic skills and build a foundation for strength and flexibility. You will be introduced to Aerial Tissu, Lyra (aerial hoop), and the Hammock. Students will learn the basics. Students will learn basic techniques like how to: climb, wrap footlocks, get into hip keys, straddle up and basic choreography, in a safe and controlled manner. Wear tights or leggings to this class.




This static pole class is suitable for all levels. You will learn tricks, spins, and climbs appropriate for your skill level. All levels welcome!