Vie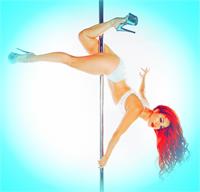 Vie went to performing arts school and grew up performing in musical theater productions. She has studied ballet, jazz, and hip hop at renowned LA dance studios such as the Millenium Dance Complex and the EDGE.
Although she spent most of her professional career touring the world as a background singer/musician for major label artists, dance has always been a part of her performance repertoire and she has choreographed dance pieces for the stage and videos.
After flirting with pole dancing off and on since 2011, Vie started taking pole dancing seriously in 2014 and has been an obsessed and devoted member of inFit since 2015. She has performed in professional pole dance videos with international pole champion Elena Anischenko and loves teaching at inFit.
She adores her students and appreciates their willingness to challenge their bodies and minds and express themselves artistically with dance!
Vie instructs the following:
Floorwerk is an open level class that utilizes sensual dance movement, low to the ground, on and off the pole. Students will focus on wall work, body & shoulder rolls, movement across the floor, and exotic and contemporary floor flow. The classes are open to students of all skill levels, and intermediate/advanced moves are taught as you progress.
What to wear: Students should bring knee pads, leg warmers and socks for this class. It is also encouraged to wear something fun and flirty.




Love pole, pop music, and music video choreography? Wanna dance in a nurturing, non-judgmental environment? Then this class is for you! This is a fun and sassy pole choreography class set to our favorite pop dance music. We'll focus on pop star dance moves, combine it with pole spins and floorwork, and get a good work out! Feel free to dress in something cute that makes you feel like a video vixen, bring your rubber-bottom boots (no buckles or studs, please), sneakers, or sexy pole dance boots/heels with lots of ankle support (6" and under to allow for easier movement - inquire at front desk about purchasing options!), and let's dance!