Vie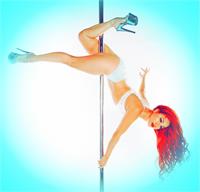 Vie went to performing arts school and grew up performing in musical theater productions. She has studied ballet, jazz, and hip hop at renowned LA dance studios such as the Millenium Dance Complex and the EDGE.
Although she spent most of her professional career touring the world as a background singer/musician for major label artists, dance has always been a part of her performance repertoire and she has choreographed dance pieces for the stage and videos.
After flirting with pole dancing off and on since 2011, Vie started taking pole dancing seriously in 2014 and has been an obsessed and devoted member of inFit since 2015. She has performed in professional pole dance videos with international pole champion Elena Anischenko and loves teaching at inFit.
She adores her students and appreciates their willingness to challenge their bodies and minds and express themselves artistically with dance!
Vie is currently not instructing any classes.