Nancy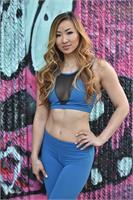 Nyancy is a professional level pole fitness competitor and competition coach. Her fitness background stems from competitive martial arts since childhood, a deep yoga practice, and acroyoga. She discovered pole out of curiosity in 2012, and was mesmerized by the strength and grace of the art. Pole revealed a different type body awareness and mindfulness that a no other discipline has taught her, yet there are not rules or restrictions to its craft. By combining all her disciplines of movement, she focuses on the fundamentals of technique and biomechanics to help students build a solid foundation with strength and confidence.
Nancy instructs the following:
This class is designed to get you fearsomely strong and focus on techniques of ballistic and dynamic tricks and movement on pole. From power spins, tumbles, and casts you will develop the fundamentals of strengths and release tricks. It will predominantly be concentrated on static pole. If you're ready to level up your skills and test your strength, come challenge yourself!