Anna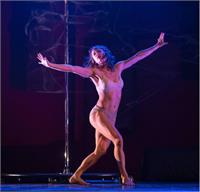 Anna began pole dancing in 2012 and currently teaches and trains in Los Angeles, California. This year she placed 2nd at the PCS Arnold National Championships, 3rd at the NAPDC National Championships and in August placed 1st in the PSO National women's pro Championships. Anna is excited to share her passion and love for the art of pole, and more importantly she knows how to make it work for each student individually.
Anna instructs the following:
This class is open to all students who have been to at least 12 classes. A glamorous pole fitness and choreography class combined into one! You'll be able to tie together spins, tricks and floor work for a complete sexy workout. These full-length routines will have you practicing and perfecting your pole and dance skills!




In this class you will learn tricks and combos and put them together to create a routine. A great class for levels 2+




Trick based pole class for intermediate/ advanced.