Emily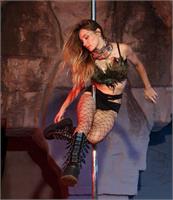 Having always had a passion for unconventional fitness, Emily started training in Chinese acrobatics and vinyasa yoga in 2007. Her conditioning included static trapeze, silks, hoop diving, rope spinning, unicycling, counterbalancing and rola bola.
In 2014 she was introduced to aerial pole and immediately fell in love. She continues her journey today, sharing her enthusiasm and experience with others.
Emily instructs the following:
Beginner / intermediate Spinning Pole

All levels are welcome.

You can learn a sexy routine, beginner/intermediate tricks and spins.




A freestyle/performance based class where all are welcome and encouraged to put together the moves and tricks you've learned in your own way. Class starts with an instructor led warm up and then students take turns practicing choreography or freestyles (pole, floorwork, tricks, or whatever you're in the mood for) for each other and cheering each other on. Costumes and your own music are encouraged but not required. All levels welcome. This class is designed to help you discover and experiment with new, lines, extensions, and forms of movement through specific exercises or prompts. Great for creating free flowing movement and helping you find your bodies natural rhythm.