Noelle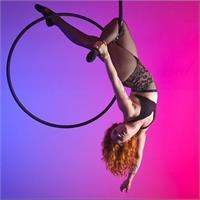 Noelle Frances discovered pole in 2014 and after building her strength, fell in love with the Lyra. She brings sultry aspect to her performances that set her apart from other aerial performers and you can catch her spreading the gospel of sexy flexibility at a number of studios in Los Angeles. She is one half of the Performance collective Wicked Woman and with her partner, Kelsea Alabama, she produces and performs TWO shows per month, Silent Femmes and Wicked Woman Picture Show, at El Cid.
Noelle instructs the following:
Take your flexibility from basic warm up stretching to beginning contortion poses, all levels are welcome to train at your own pace. We will focus on safely exploring your limits through proper warm up and mat exercises to take home. Come increase your bendy power, learn to prevent injuries through safe stretching, breathe, and stretch in a supportive environment. This class Also teaches you how to balance on your hands. You will get upside down and practice the subtle adjustments needed to stay there.




Aerial lyra class for all levels that combines aerial tricks, poses and spins into cohesive choreography and shows you how to develop a routine. Good for all levels.




This class is for absolute beginners through intermediate students who need to learn & work on basic skills and build a foundation for strength and flexibility. You will be introduced to Aerial Tissu, Lyra (aerial hoop), and the Hammock. Students will learn the basics. Students will learn basic techniques like how to: climb, wrap footlocks, get into hip keys, straddle up and basic choreography, in a safe and controlled manner. Wear tights or leggings to this class.