Amy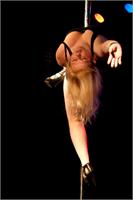 Meet the owner:
Amy has been dancing all her life but discovered pole dancing a few years ago, after she took her first class and it changed her life.
In her first class she felt like she was having fun and dancing with friends rather than working out. She became certified to teach pole at Pole Fitness Studio in Las Vegas by Fawnia Dietrich, the world's first pole teacher and pioneer of the pole fitness industry.
Amy's background in dance includes ballet, jazz, gymnastics, and many years of cheerleading, most recently in the LA Fearleaders (official cheerleaders for the LA DerbyDolls).
Amy loves teaching beginners and helping new students discover their own strengths.
Amy instructs the following:
This class is open to all students who have been to at lease 12 classes. A glamorous pole fitness and choreography class combined into one! You'll be able to tie together spins, tricks and floor work for a complete sexy workout. These full-length routines will have you practicing and perfecting your pole and dance skills!




Chair dance uses the chair as a prop and starts with a chair warm-up that tones your legs, thighs, abs, hips and butt while learning a sexy burlesque chair dance routine. You will learn the fundamentals of classical burlesque dance, with particular attention to slow, graceful and sensual movements, showcasing and engaging your audience. The pace of this class is slow and sexy, and is perfect for beginners.