Kitty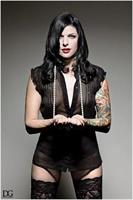 Kitty is a California native and has been pole dancing in Los Angeles since 1994. After falling in love with the art of performing, she began teaching exotic pole dance in 2005. While creating a space for creativity without judgement or competition, her goal for her students is to explore and be empowered through sensual movement. Although her true roots are as an exotic dancer and burlesque performer, she offers a variety of skills perfect for all levels. Kitty says, "It's not always about the destination, it's the journey that takes you there". These days you can find her performing with the original burlesque and cosplay cabaret show, The Devil's Playground (Voted "Best Burlesque Show " by La Weekly 2009).
Kitty instructs the following:
Intro to pole starts with a 15 minute sexy warm up followed by 45 minutes of learning basic pole moves that get put together into a routine. If you have never pole danced before or want to work on the basics this is the class for you. For the first one or first few classes of pole dancing, you will be comfortable practicing your first pole moves along with other newbies like yourself. This class combines a little bit of everything: stretching, abs, core workout, and the most basic pole moves. Learn at your own pace.