Tamysen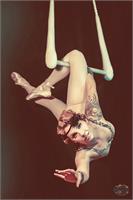 Tamysen trained 3 years in Vertical Dance and Hoop Dance and is classically-trained in ballet. Certified licensed practitioner of 'yoga for the special child' . Certified "Flirty Girl Fitness" and recently trained in Qignition's QiDance. Personal assistant to the king of the universe extraordinary cook of all things green! (Excluding frogs). Performed with Arizona's Classical Theater and the World's Best Shakespeare Company, as well as too many musical theater performances to name.
Tamysen instructs the following:
This class starts out with a dance based warm up then combines Lyra and Trapeze Training.This multi level class allows students to try out a variety of aerial equipment including lyra and trapeze. Wear tights or leggings to this class.




In this intermediate/Advanced silks class, students will work on full song length combinations in order to develop stamina , strength and grace. A new routine is taught every month.